3 LITTLE PIGS IN THE SNOW!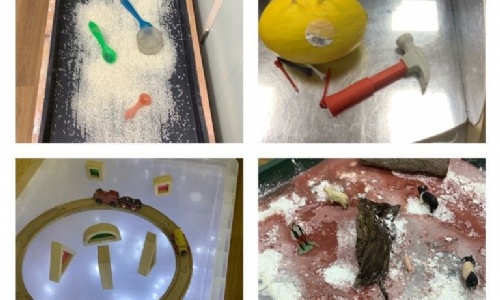 In the Garden Room this week I am continuing to tell the story The 3 Little Pigs. The children are beginning to join in with Huff and Puff and blow your house down.
On our fine motor table I have placed a melon, golf tees and plastic hammers.
The children are exploring tapping, this is part of our Wood working curriculum.
On our messy table for the children to explore their senses I have placed cornflour brown paint and the children added some water. We then added some pigs for the children to move in the mud.
As the Garden Room children have really shown an interest in filling and emptying pots. I have placed rice in our tray, with a variety of different sized pots and spoons. This is part of our Maths Curriculum.
We are still continuing to make our pig biscuits and sit together and enjoy eating them.