Developing Positive Behaviour
At St. Giles Nursery School we encourage and promote positive behaviour. We give the children every chance and encouragement to develop the skills they need to;
develop a positive sense of themselves, and others;
to form positive relationships and develop respect for others;
to develop social skills and learn how to manage their feelings;
to understand appropriate behaviour in groups; and to have confidence in their own abilities
Adults show consistency and model appropriate behaviours, such as, concern for others, how to manage anger and other strong emotions, and how to be understanding, and also model the necessary language by which to be understood. We believe that children model their behaviour on what they experience.
We aim to lead by example by:
• Showing respect for others
• Respecting all cultures, beliefs and ways of life
• Ensuring that the Nursery environment reflects cultural diversity
• Recognising that 'families' can be composed in many different ways
• Recognising that children's conversations are as important as adults
• Asking for children's opinions and views and trying to act on them
We work together to anticipate the best from each child and remain alert for evidence of their strengths. We are aware of and respond to the particular needs of children who are learning English as an additional language. Plans and activities are differentiated as necessary and sometimes individual education or behaviour plans put in place in consultation with parents.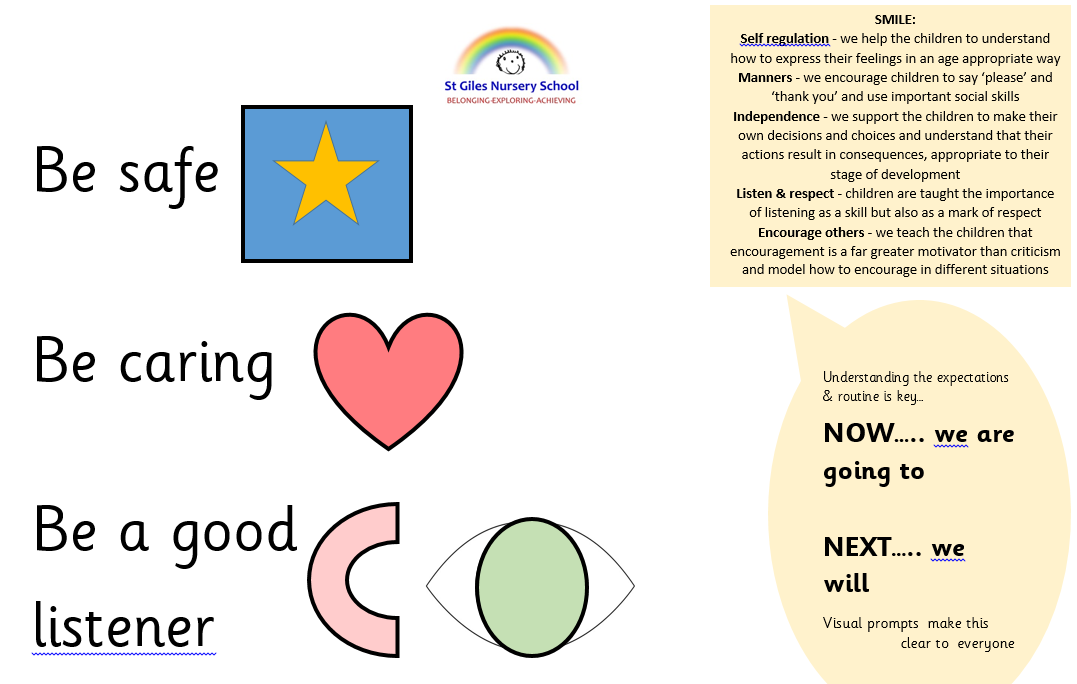 St Giles Nursery School use Dr William Glasser's Choice Theory to consider individual strengths and needs. We use the Phoenix Cups Model and Leuven Scales to consider how to teach children the skills necessary to meet their own needs.