Playing and Learning Through Woodwork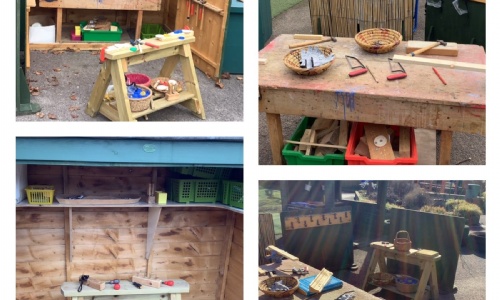 Woodwork experiences are very important in the early years as they encourage children to make their own choices and learn through trial and error. Woodwork sparks creative thinking and imagination. It also encompasses all aspects of learning and development, supporting maths, scientific investigation, physical coordination and language.
In our nursery garden the children currently have access to a designated woodwork area every Wednesday. The aim of this is to provide our children with an opportunity to practice basic woodwork skills that have been taught during their Forest School sessions.
As using tools is an important aspect of Forest School practice we have a distinct procedure with how we go about teaching tool use. Each time a new tool is introduced to the children, we give a 'tool talk'. This involves teaching the correct name for each tool, the different parts of the tool, what it should be used for and finally, how it should be used correctly and safely. So far this year the Castle Room children have been taught how to use the Screwdriver, Hammer, Junior Hacksaw, Bit and Brace Drill, Palm Drill, Hand Drill and the Pistol Drill. The children have spent time both at Forest School and in our woodwork area exploring these tools for themselves. I have provided access to a wide range of wood, (of various shapes, sizes and textures) cloth and other materials such as tin cans, corks, plastic and metal lids, nails, screwdrivers, nuts and bolts. We have a vice available to hold the wood still, safety goggles to wear when the children are hammering and special protective gloves to wear on our 'helper hand' when using a saw.
Initially, children have been taught how to use the tools safely and given opportunities to try techniques in appropriate ways. Learning has progressed at each child's individual pace and with practice they have gradually become more confident which in turn has given their self-esteem a boost. Once the children have mastered these basic skills, they naturally begin to move into open-ended exploration and start to make their own unique creations! This is when children start to problem solve and resolve their own challenges.
As we would naturally expect our children are all progressing at their own pace, Some children arrive at the woodwork area and choose to hammer nails into wood, use a screwdriver to turn screws in different directions or simply to drill holes into wood. Some children have started to realise that a nail or a screw can join pieces of wood together. Other children have moved on from this and have begun to make their own models! We have noticed this year there is a general interest and fascination with cars. Last week I tried to encourage specific children that are ready, to perhaps build their own car using the tools and materials available. We have started to place books and photographs of cars on the woodwork bench to encourage the children to look and talk about the various parts of a car and think how they could include them in their own model. There are also pencils available for children to make marks on the wood in the place they are going to hammer in a nail or attach a wheel for example. Next week we will move on and look closely at actual toy cars and perhaps encourage some children to draw a simple picture of the car they wish to create.
It is a real privilege to see our children tinkering with tools as I have seen just how deeply engaged they become for sustained periods of time. Some children have even spent a whole session with me at the woodwork bench! I have seen first hand how captivated children can be with the smell and texture of the wood, the sounds of hammering and sawing, the challenge of using both strength and coordination, the experience of using real tools and the opportunity to work with natural materials. This all combines together to captivate young children. This captivation is indeed evident in the children's facial expressions in the photos and videos attached. The look of pride on a child's face is truly wonderful when they finally produce a car that they can play with and will actually roll along the ground!
Woodwork really is active learning at its best!