THIS WEEK IN HARES & SQUIRRELS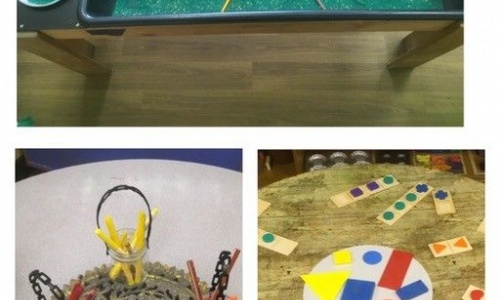 his week in Castle Class it's Maths week! We will be focusing on maths and in particular mathematical mark making. Children express themselves in many different ways ie through movement, through music, through song, through listening, through building, through their senses, through recording using; marks, symbols, images, numbers and words. This week we are going to provide the children with lots of opportunities to 'write.' Marks, scribbles, waves, lines, words 'come to life' when they are 'read' so together we will talk about the different meaningful marks the children have made!
There will be lots of opportunities for the children to engage in to achieve the learning that we have planned through enhanced activities such as, designing and making their own pizza, exploring, recognising and sorting shapes, playing bowling and recording how many each person has knocked over on the whiteboard and there will be a large scale numnergame for the children to play.
Pepsi and cottontail our pet rabbits are settling into their new hutch in our classroom. Each morning when the hare group arrive the rabbits are in their hutch, the children are always so eager to see them! Both the rabbits and the children are becoming more confident which is lovely to observe. Each morning before they are taken to their outside hutch, the children like to get them out for a stroke and they are starting to observe them eating and drinking. Twice a week we clean the hutch out which we like to involve the children in so they understand tha pets need caring and looking after. We will also encourage the children to check their food and water as part of their caring role.
Alongside this the children will have their weekly dance lesson on Wednesday and their forest school session on a Tuesday or Thursday.
This weeks song is called 'Troll stinks' and it's all about staying safe when using technology online. The main characters in the story are two goats who find a phone in a field threat belongs to a farmer. They use the phone but they hide it from their parents, they take pictures of people and say unkind things to a troll that they have never met. They do do not use the phone safely and their actions make troll feel very sad and frightened .
The song of the week is called 'I keep my information safe' which is all about e-safety. Here is a link to the song https://youtu.be/LLWH2KzIVDk