Mrs East's Cheese Scones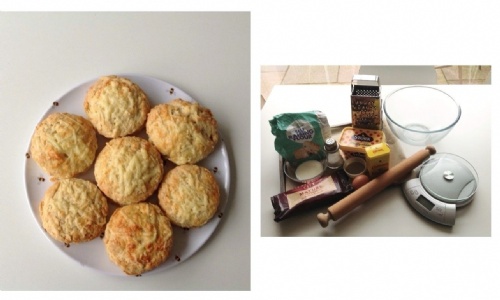 Cheese scones are really easy to make and taste delicious.
To make cheese scones you will need,
⚪️175g (6oz) - S.R Flour
⚪️Pinch of Salt
⚪️1/2 tsp - Mustard powder
⚪️25g (1oz) - Margarine
⚪️75g (3oz) Cheese - grated
⚪️1 - Egg
⚪️2 tbsp - Milk
Heat the oven to 220 and line a baking tray with baking parchment
Mix flour and mustard powder together in a bowl and stir in most of the cheese (save some of the cheese for the top of the scones)
Add the egg and the milk and mix to a soft dough
Use a rolling pin to roll out the dough and use a cutter to cut out the scones
Place on the lined baking tray and brush the top with milk and sprinkle on the cheese.
Bake in the oven for 10-15 minutes or until golden brown.
Wait until cooled slightly, eat and enjoy!