Mrs East's Cookies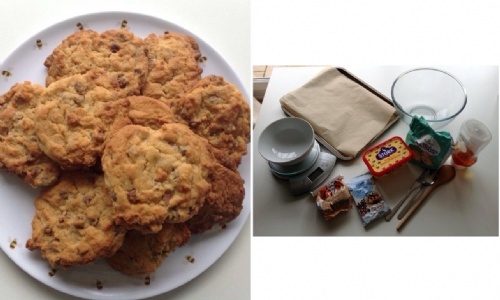 This recipe is really easy and the cookies taste delicious.
All you need to make cookies are,
⚪️100g Margarine
⚪️75g Soft light brown sugar
⚪️2 tbsp Syrup
⚪️175g S.R Flour
⚪️100g Chocolate chips (white, milk or dark)
⚪️2tbsp Milk
Heat the oven to 180 and line a baking tray with baking parchment.
Using a wooden spoon mix the margarine until soft, add the sugar and cream together until light and fluffy.
Stir in the syrup, flour, chocolate chips and milk and mix well.
Place spoonfuls of the mixture on to the prepared baking tray and bake for 8 to 10 minutes.
Remove from the tray and place on a wire wrack to cool.
🍪Eat and enjoy!🍪