THIS WEEK IN OWLS & HEDGEHOGS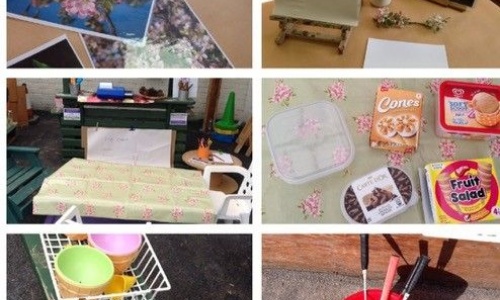 his week in Castle Class it's Maths week! We will be focusing on maths and in particular mathematical mark making. Children express themselves in many different ways ie through movement, through music, through song, through listening, through building, through their senses, through recording using; marks, symbols, images, numbers and words. This week we are going to provide the children with lots of opportunities to 'write.' Marks, scribbles, waves, lines, words 'come to life' when they are 'read' so together we will talk about the different meaningful marks the children have made!
Outside in the nursery garden the children have been really interested in pretending to sell ice cream to their friends so this week we have an ice cream shop for them to explore complete with cash till and bottle top money! As the week progresses we may even have an ice cream treat too!
Inside the classroom we will be making maps of our local area. We will be discussing our routes to nursery and looking at what numbers and shapes we can see all around us!
In the creative area we are studying apple blossom using water colours and mixed media.
Our book of the week is called, 'Troll Stinks' this book is all about the importance of being safe when online.
We will be singing lots of number rhymes and if you have a favourite one that you sing at home we would love for you to share it with us on Tapestry!
What an fun and exciting week we will have!